The Goldfish Boy - Lisa Thompson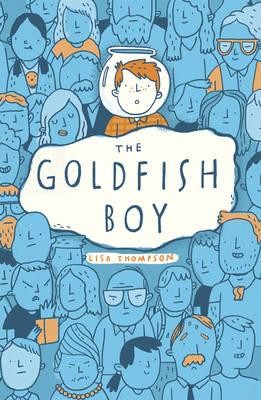 It's a new year which means it's time to shake off your dusty wigs and get your reading glasses back on as I'm back on the old blogger! It's been a rather busy few months (what EVEN was December?!) but I'm back, with a promise to you all of at LEAST one post per week. So, let's kick things off in style with a good old fashioned book review; what better place to start than January's Book of the Month for Waterstones, Lisa Thompson's debut 'The Goldfish Boy'.

Matthew Corbin suffers from OCD (obsessive compulsive disorder) and rarely does he leave his room. He washes his hands until they crack and bleed, he douses everything with antiseptic spray and he has a secret box of latex gloves under his bed. To pass the time, he observes his neighbours as they go about their daily routines and jots it down in his notepad. Everything is as regular as clockwork, until Mr Charles' grandchildren come to stay, and the youngest, Teddy, goes missing. As the cul-de-sac residents come together to look for Teddy, it becomes apparent that Matthew was the last person to see him and he finds himself slap bang in the middle of a high-stakes mystery and every single one of his neighbours are suspects. Can Matthew overcome his fears and risk exposing his biggest secret to crack the mystery?
From the get go, I was immediately sold by the premise as it reminded me heavily of Mark Haddon's wonderful 'Curious Incident', and it follows a very similar structure, the main protagonist is isolated, views something that is vital to the plot progressing and importantly, must deal with overcoming a substantial hurdle. In Matthew's case, it is his OCD. Thompson writes about Matthew's condition with such clarity and yet such sadness, as you really get into his mindset about why he feels the need to clean and why things have to be in a certain way. His parents don't understand and they urge him to "get better" but Matthew, and now us as the reader, know it is not that easy. It's clear that Thompson feels strongly about the topic, and it really resonated with me as I spent hours researching OCD shortly after finishing the book, it is a very serious condition and should be treated as such. It never feels daunting or too heavily enforced either, the intended 9-12 demographic would easily be able to pick this book up and be able to relate to Matthew's character. He's likeable, smart and he'll probably break your heart by the last few pages; it is brave of Thompson to write about OCD in such a poignant yet realistic manner.

The other characters are also very well thought out and crafted, each adding their own layer of perplexity to the mystery but also remaining incredibly realistic and humane, Mr Jenkins is a PE teacher who smokes in secret, Old Nina lives in a ramshackled old home longing on to the past, and Matthew's Mum and Dad are frustrated, emotional parents who are desperate for their son to be normal. This realistic setting with realistic characters helps plod the story on nicely without ever becoming far fetched.

As for the main plot itself, as fantastic as the mystery of 'who took Teddy' was, I did at times think it would take a rather dark turn. Especially in one moment when Teddy's blanket is found covered in blood. I found this rather disturbing and may be unsettling for younger readers, though thankfully this is the only shred of darkness as all becomes clear when the culprit reveals themselves in an enlightening, yet heartbreaking manner. What I really enjoyed was the 'Broadchurch'-esque nature of the cul-de-sac, how closely intertwined everyone was with each other, and how events of the past affected the events of the present day. I was utterly absorbed the whole time and I really couldn't work out who had taken Teddy, even when I thought I had, it still took me by surprise.

A touching, humane story about being brave and learning to be comfortable in your own skin mixed with a engrossing mystery, 'The Goldfish Boy' follows in the steps of 'Wonder' and 'Curious Incident' in being a thoroughly entertaining book for children and adults alike.
★
★
★
★
The Goldfish Boy
9781407170992
£7,99